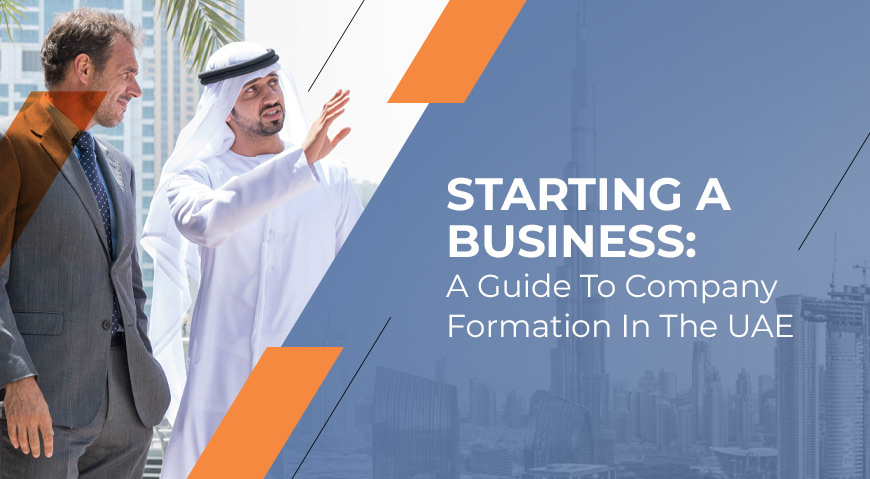 Starting a business: A Guide to Company Formation in the UAE
The UAE offers immense opportunities for starting a new business in diverse areas of industry and services. Every business involves planning, budgeting, resource mobilization, and registration procedures depending on the type of business to be started by you.
Business Activity
The first step in starting a business is to identify a business activity keeping in mind its relation to the UAE market. You must conduct pre-feasibility and viability studies for the project before starting any venture

Location and types of companies
There are three types of jurisdictions where you can start a business. 1. Mainland 2. Freezone and 3. Offshore. UAE enables you to start various types of companies such as sole proprietorship, civil company, limited liability company (LLC), foreign company branch, free zone company, and freelancers.

Types of Trade Licenses
UAE offers different types of trade licenses such as commercial license, professional license, industrial license, and tourism license.

Company Registration
The first step in forming a new venture is to register the company name. You must get in touch with the Freezone Authority or the Department of Economic Development (DED) to choose a name that is acceptable to them. As per rules, the name should not violate public morals and should not have been registered previously. The following documents must be produced for registration.
1. Completed Application Form 2. Passport copies of shareholders/directors 3. Specimen Signatures of shareholders/directors 4. Letter of Intent 5. Business Plan.

For completion of licensing procedures, the following documents must be produced:
1. Power of attorney given to manager/director.
2. Memorandum and Articles of Association
3. Board Resolution appointing a company manager/director.
4. Specimen signature of manager/director.
5. Photo of manager/director
6. Share capital information.
Foreign Companies
Overseas companies can register a branch in the UAE as a subsidiary company. The subsidiary company will operate within the rules and regulations of the UAE. However, it is protected from double taxation and can start operations from Freezone.

Not for Profit Enterprise
It is possible for you to set up a not-for-profit enterprise in the UAE. In the case of UAE nationals, a charity can be registered online with the Ministry of Community Development. In the case of expatriates, an application for starting a not-for-profit must be submitted through the embassy or consulate in UAE

Record Keeping
A business started in the UAE must keep details of all activities undertaken. Accounts statements such as annual accounts, general ledgers, credit notes, VAT ledgers, purchase day books, debit notes, and such other ledgers must be kept updated and verified. The records should be kept in the head office of the company for a minimum duration of five years.
Business Banking in UAE
Every business should have a business bank account that has to be opened after registration of the company and on receipt of license. You can approach a bank of your choice in person. The documents required include completed application, certificate of incorporation, trade license, Memorandum and Articles of Association, Passport copies of all partners or directors, and resolution from the board of directors authorizing to start a bank account and appointing signatories.
Other Requirements

For Mainland businesses, a local partner who is a UAE national may be required as a partner. A business setup consultant can help find a local sponsor. However, for Freezone businesses, a local sponsor is not required. Office and business premises may have to be rented for running the business. Office space is required to apply for visas from the Department of Economic Development for hiring employees.

UAE is an ideal place for starting a business in terms of global connectivity, ease of doing business and infrastructure provided by the UAE government. If you are looking forward to starting a new business in Dubai, Youfirst can provide all the services